Braces for Teens in Bee Cave, TX
You may luck out and have a teenager that's excited about starting orthodontic treatment to better their smile. They may do everything that's asked of them and be an A+ patient. But the truth of the matter is that compliance with teenagers in braces can be challenging. Not all young adults can see the long-term benefits of going through treatment or are worried about their teeth at all.
As parents, it's important to stay positive and show encouragement so that your teen can enjoy a successful outcome from their braces. Going through ortho is a huge commitment for your entire family.
Dealing with the "Pain"
If you've never been through braces yourself, it can be hard to understand the scope of it all. Your child will likely experience some discomfort, so be patient with them and be ready to provide options for relief. Warm salty water rinses several times a day are helpful for relieving irritated lips or tongues. Wax forms a cushion and can be applied over any irritating brackets or wires, protecting your child's soft tissue.
It's also a good idea to keep some non-steroidal anti-inflammatory medicine (NSAID) like ibuprofen handy, for when your child has an adjustment done with our orthodontist in Hill Country. Adjustments cause pressure, which can cause discomfort for a day or two.
Handling Oral Hygiene
Teenagers lead busy lives. It's common for them to forget to brush their teeth, but oral hygiene should never be put on the back burner – especially during orthodontic treatment. Not cleaning your braces properly can cause cavities, leads to a host of other issues. Our orthodontist in Hill Country will give you both tips and tricks to help the cleaning and maintenance process to be as easy as possible.
As a parent, you must remind your teen to stay on top of their oral care. Brushing should take place after each meal. Provide them with a kit that contains hygiene essentials to take with them when they're away from home. In the house, keep other products that they need to use everyday in order to help with their routine. At a minimum you should have:
Toothbrush
Fluoride toothpaste
Mouthwash
Floss threaders and proxa-brushes
You may even want to consider investing in an air or water flosser which will really help make things easier and less of a chore for your teen. Electric toothbrushes also work a lot better than manual ones.
If keeping a clean mouth becomes a problem, our dentist in Hill Country may recommend more frequent cleaning appointments during treatment.
The Value of Braces During Teen Years
As a parent, being committed and showing your teen the importance of their braces will help them feel the same way about their treatment. Orthodontic appointments are not something that should be taken lightly. Voice to your child how important it is to make your scheduled visits. Plan them during times when you won't be rushed and your teen's treatment can be the #1 focus for the both of you.
Also, since you can't control every single aspect of the process, help your teenager understand that their compliance plays a significant role in the length of their treatment, as well as the outcome. Our dentist in Hill Country can also help with this by talking to your teen about the day to day requirements.
Dietary Changes
Braces require certain food restrictions. Your teenager will appreciate it, if, as a parent, you'll be aware of this and make a conscious effort to help them by providing appropriate options to eat.
Candy can be hard for a teenager to resist, so having hard or chewy candy around the house is a no-no. Other snacks that should be avoided are popcorn and chewing gum. When packing lunches or making family meals, keep in mind that the following can be hard for your child to eat:
Soft, chewy foods like bread that get stuck around wires
Crunchy and hard foods like nuts and hard pretzels (which may cause brackets to pop off and make teeth feel sore)
Foods you have to bite into, such as corn on the cob, apples, and carrots
Keep cold things handy. Especially after an adjustment, your teenager may experience some discomfort. A cold drink or something to eat can help soothe soreness and cut down on any inflammation. Ice cream, popsicles, yogurt, and chilled soups are also good options during this time.
Looking Their Best in Braces
For most teenagers, image is a sensitive subject. The thought of having to wear a mouth full of metal for up to two years can be quite traumatic to think about. Again, teach your child that proper compliance and oral care can shorten the time of treatment and have a positive impact on the outcome.
Colored brackets and wires can make a gloomy situation more fun for some patients. Our Austin orthodontist offers ceramic braces – which are tooth-colored – for a more aesthetically pleasing look. Plus, Invisalign Teen is available for the responsible and self-conscious teen. This treatment method uses a series of clear plastic aligners that fit over the teeth to gradually straighten them. Each tray is nearly invisible and removable, making cleaning a breeze. If this option is a route you and your teenager want to consider, then just let us know. When you visit our office in the Austin area we'll conduct a thorough exam and give you appropriate recommendations based on your concerns and needs.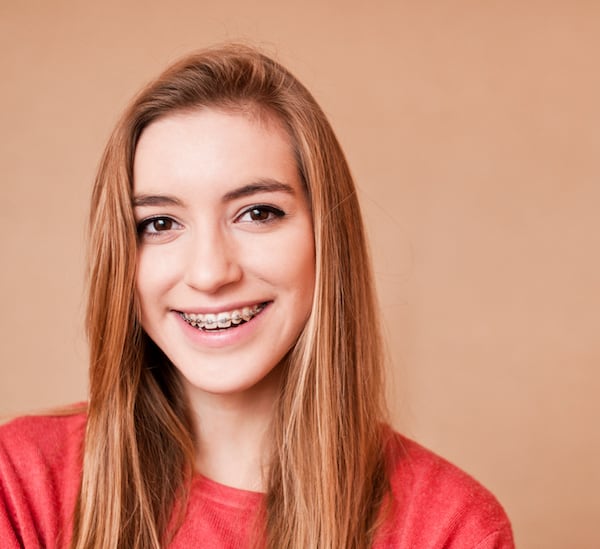 We're Always Here to Help
As long as you're a patient of Hill Country Pediatric Dentistry and Orthodontics in Travis County, you have the best care available! If you or your teen are feeling frustrated about crooked teeth, we can help and are here to support you in any way we can.
Schedule an orthodontic or Invisalign Teen consultation for your son or daughter today to get started! Our specialist team of pediatric dentists and Austin orthodontist are accepting new patients.
BRING YOUR PERFECT SMILE TO LIFE!